Learn how developing and enforcing Retention Policies can help you cost-effectively manage your data growth
With enterprise data sets growing exponentially, it has now become business-critical for organizations to have a firm grasp on what's inside their archives and how to properly handle that data or run the risk of mismanagement impeding organizational success – eating up expensive storage space and leading to potential compliance risk and costly litigation.
Information governance programs are a strategic and scalable solution for successfully managing data growth. Retention polices, the cornerstone of information governance, are a mechanism for organizations to govern how data is gathered, stored, shared, and disposed – allowing organizations to drive down storage costs and achieve compliance at scale.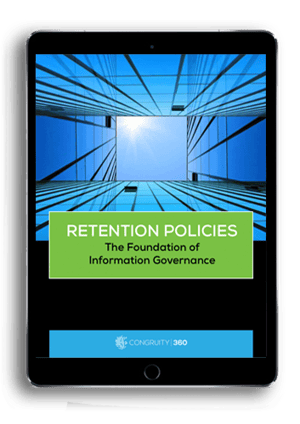 Congruity360's eBook, Retention Policies: The Foundation of Information Governance, will walk you through:
What retention policies are and why are they are crucial to the success of your business
The goals of retention policies
The initial steps to creating these policies
Best practices for developing successful retention policies
Download our eBook today to take the first step towards saving time and money and reducing risk through successful data management!